About aceh
our mission:
To lovingly provide culturally supportive, affordable housing and services that end Aboriginal homelessness on Vancouver Island.
The Aboriginal Coalition to End Homelessness Society (ACEH) is a non-profit and registered charitable organization whose sole focus is to support Indigenous peoples experiencing homelessness. The work of the ACEH is centered on the voices of Aboriginal peoples who have shared their immediate needs, lived experiences, and perspectives on solutions. Through building partnerships locally and island-wide, the ACEH works to identify and address systemic and structural barriers, share information, resources, and lessons learned, while also providing cultural supports, connections, and housing stability. The role of the ACEH is critical because there is not another Indigenous led organization on Vancouver Island that has ending Indigenous homelessness as its sole focus. The ACEH has a vision to lead long-term systemic change to better meet the needs of our people living away from home and experiencing homelessness.
"The water,
I left it all out on the water, I didn't bring anything back with me"
our team
we are all one.
Our Way is to care for all our people, from the youngest to the oldest. We are all one. Some of our people living away from home are suffering, isolated and homeless. We stand together to end homelessness.
Donate Today
support our work with a financial contribution.
Donate now through CanadaHelps! CanadaHelps is a registered charity dedicated to increasing charitable giving across Canada by providing a platform for other registered charitable organizations in Canada.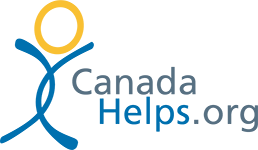 we gratefully acknowledge our funders
governance
The ACEH is governed by Indigenous peoples with representation from local organizations and Friendship Centres across Vancouver Island, Metis Nation BC, as well as representatives from each of the three Tribal Groups on the Island: Coast Salish, Nuu-Chah-Nulth, and Kwakwakw'wakw. The Board of Directors provides leadership and strategic direction necessary to end homelessness within the Aboriginal population on Vancouver Island: to ensure that adequate resources are in place to achieve the strategy; to ensure that operational plans and budgets are implemented that achieve the strategy; and to provide timely communications to the community on progress in ending Aboriginal homelessness.
Click image for larger view: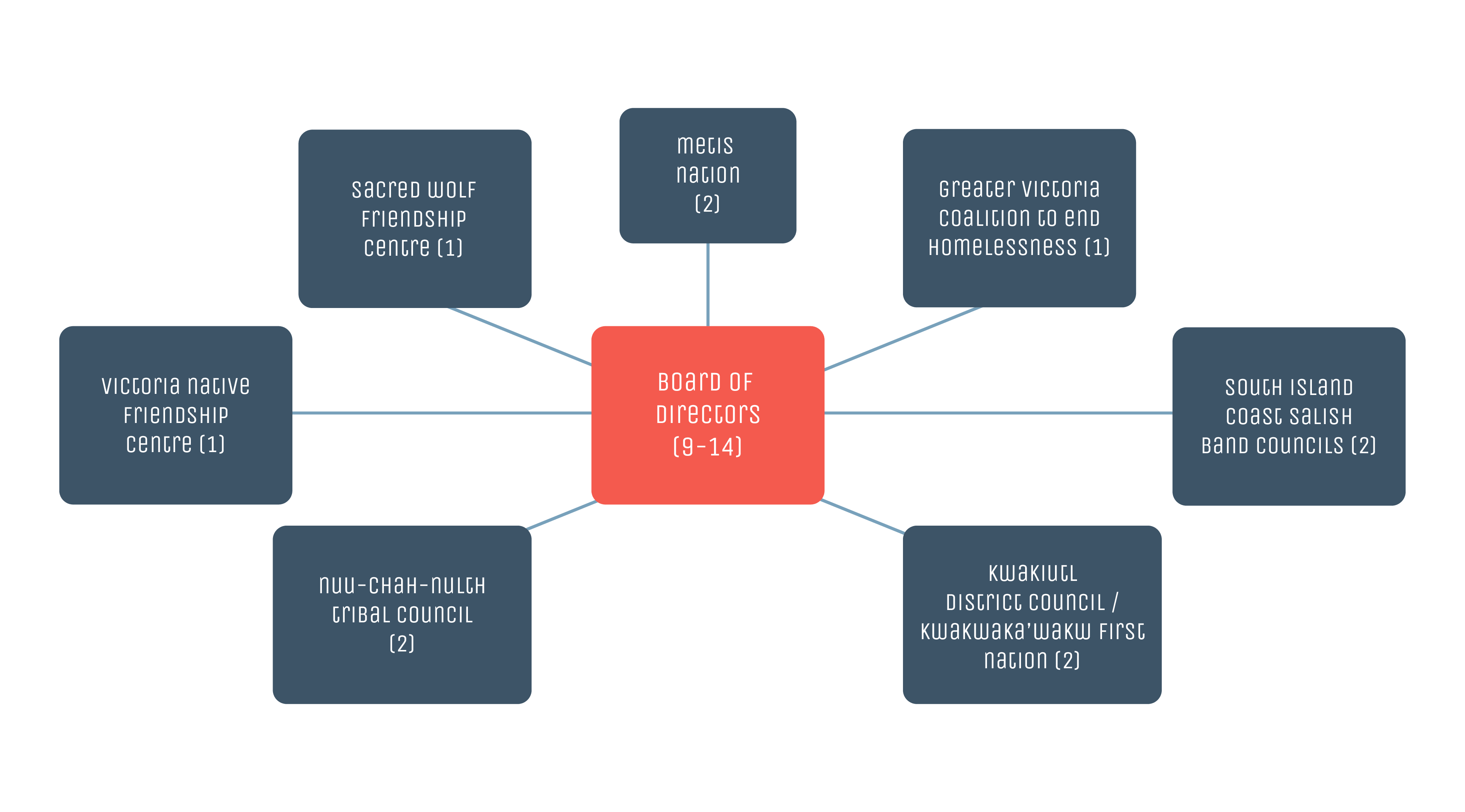 The image of a Coast Salish Big House provides the framework for the Aboriginal Housing Strategy. Big Houses have 4 corner posts, each providing a different perspective and support to the House. For the Aboriginal Strategy, each posts represents one component or strategic initiative needed. All four posts are equal in urgency and importance and together provide the structure for Aboriginal housing in our community. The vision for the strategy is at the center of the House, providing the warmth, the fire that unites us in this work.
Creating a climate of love and care
As the only Indigenous-led organization on Vancouver Island which focuses on Aboriginal Homelessness, the work of the ACEH is critical. Since 2016, the ACEH has conducted research using a phenomenological approach through surveys, focus groups and talking circles. Through these resources, we have gathered baseline data, health and wellness information, and direct feedback from the Aboriginal Street Community about access to cultural support including identifying the gaps in services and discussing what cultural supports and services they would like to see offered.
The work of the ACEH is centered on the voices of Aboriginal peoples who have shared their immediate needs, lived experiences, systemic and structural barriers, as well as their hopes, dreams and importantly, their perspectives on solutions. Within this context, the ACEH seeks to create a climate of love and care to help members of the Aboriginal Street Community gain cultural supports and connections as well as housing stability.
In September 2018, the Aboriginal Coalition to End Homelessness Society (ACEH) invited local Victoria organizations and service providers to gather and explore ways to network and align services where appropriate. 12 recommendations were developed. The same group met in March 2019 to review the 12 recommendations and prioritize actions moving forward. Three priorities were identified.
The name may be misleading, since a Point-in-Time Count (or PiT Count) is much more than just a count or a number. A PiT Count provides our communities with valuable information about who is experiencing homelessness in our region and what factors contribute to experiences of homelessness – information gathered directly from connecting with, and talking to, people experiencing homelessness in a particular area, on a particular night, at a single point-in-time. This year's Greater Victoria Point-in-Time Count took place on March 15, 2018.
The Vision for Our Future Report released in December 2016 documents a project sought to develop an overall report and action plan to combat Aboriginal homelessness in Victoria. The Aboriginal Coalition to End Homelessness brought together participants from the Aboriginal Street Community to share their experiences with homelessness to learn about the barriers they face, and hear their ideas for action and change. The report helped to shape the Aboriginal Coalition's direction and strategic priorities.
In early 2016, the Victoria Integrated Court and Island Health Assertive Community Treatment and Intensive Case Management (ACT and ICM) teams identified 74 individuals with high needs, requiring individualized, low barrier, culturally safe living environments with intensive supports. These individuals were homeless or recently homeless and almost all were banned or recently banned from housing and/or shelter services. The importance of this population in our community has resulted in the group being called the 'Priority One' population. 20 of the 74 people identified as Priority One also self-identify as Aboriginal. The Victoria Cool Aid Society (VCAS), the ACEH and Island Health partnered to submit a proposal to the CRD to find a pilot program with a culturally-specific model of care. VCAS committed to provide 20 housing units, ACEH agreed to provide leadership related to cultural components and Island Health provided a contact from 713 to assist in support The Priority One Lessons Learned Report compiled in March 2018 is a culmination of lessons learned over the course of sixteen months of Phase 1 of the Priority One pilot program – Towards Health and Well Being Through Cultural Community.
The Aboriginal Coalition to End Homelessness is considering an Indigenous-led Managed Alcohol Program (MAP) to support those experiencing housing insecurity and alcohol dependence. ACEH obtained a grant from Vancouver Island Health Authority to fund a MAP Feasibility study and commissioned Coreen Child Consulting to facilitate consultations with community members and service providers. Renee McBeth Beausoleil supported the research and led the writing behind this report.
Wisdom of the Elders – Guidance from the Community: A Tailored Approach to Indigenize Harm Reduction. With funding from First Nations Health Authority and Vancouver Island Health Authority, in June 2018, the Aboriginal Coalition to End Homelessness held a 2-day Gathering to collaboratively develop a harm reduction framework contextualized by Indigenous knowledge. This report is an overview of the Gathering.
The Aboriginal Coalition to End Homelessness embarked on this research to learn more about the barriers experienced by the Indigenous Street Community (ISC) and to determine ways to more effectively support their health and wellness needs. Between May 2017 – December 2017, 90 people from the Indigenous Street Community were surveyed. The surveys conducted within the downtown core of Victoria.
News & Events
we're on facebook
Our calendar shows all of our upcoming projects and community building events for the Aboriginal Street Community. Click the button to see our events!
Join our Team
current job openings

Housing Manager – Culturally Supportive House


Indigenous Alcohol Harm Reduction Program Manager

Support Worker – Culturally Supportive House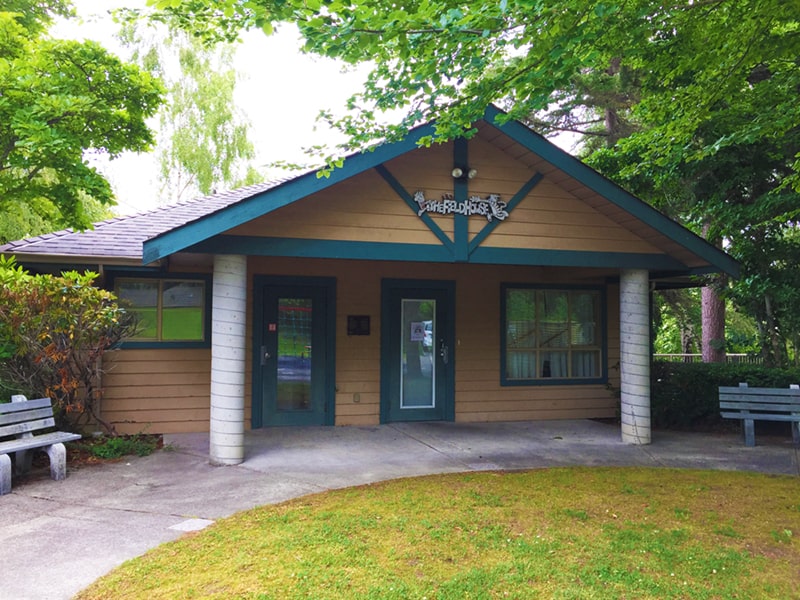 Mailing Address

101-2860 QUADRA ST
Victoria, BC V8T 4E7
Get Directions
About our Location: We are located at the fieldhouse beside the residential building at 2860 Quadra St. If you are standing on Quadra looking at the building look to your right, there is a stairwell path, go up the stairs at the top you will see a park, we are located beside the park in the "Fieldhouse" building, We have our logo on the front door to our office. You can call if you have any trouble finding us.